Quick revise
Footloose industry is a general term for an industry that can be placed and located at any location without effect from factors such as resources or transport.
Industrial regions, where footloose industry is the most dominant, are often located along motorway corridors. The greatest concentration of all in the UK is along the M4 corridor between London and Cardiff in South Wales. The M4 corridor provides businesses with excellent transport links and good access to international airports. The industries are also located close to traditional university towns where the necessary skilled workers are likely to reside.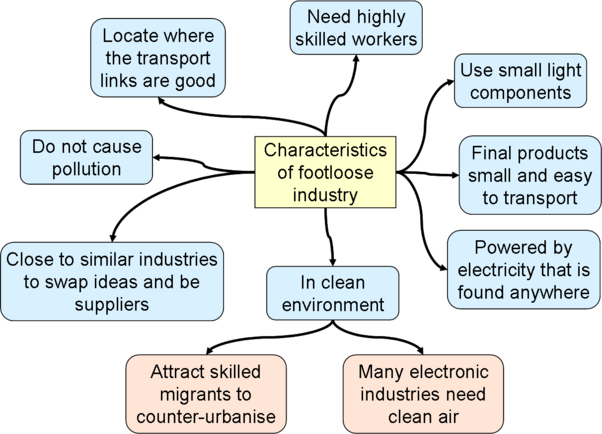 Advantages
Land on the edge of cities is often cheaper than in the centre. The out of town surroundings and easy access to workers in the suburbs provides an ideal location for building science and business parks.
Motorway links and railways also provide access for commuters and for transporting components and products.
Disadvantages
Workers wanting to live near their place of work increases the demand for housing and puts pressure on green belt land.
As demand grows, house prices increase. This means that less skilled and lower paid workers are priced out of the market in desirable areas.