Accommodation
Quick revise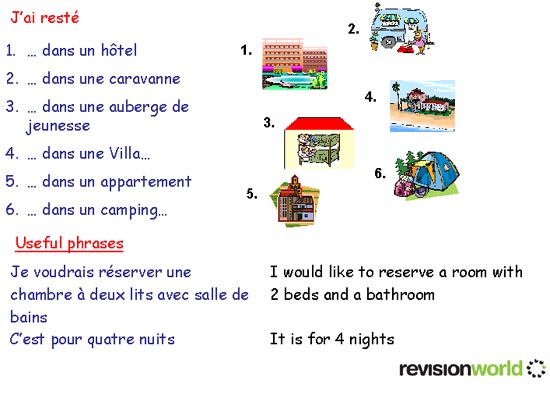 le logement  accommodation
l'accueil reception
la baignoire bath
un balcon balcony
une clé key
le drap sheet
un escalier stairs
un lavabo washbasin
un lit bed
un grand lit double bed
la note the bill
le robinet tap
la salle de bains bathroom
un sèche-cheveux hair dryer
du savon soap
une serviette towel
 
Je voudrais réserver une chambre pour deux nuits.
I'd like to reserve a room for two nights.
Je voudrais une chambre avec douche et une vue sur la mer. 
I'd like a room with a shower and a sea view.
J'ai réservé une chambre pour deux personnes au nom de Francis.
I've booked a room for two people in the name of Francis.
À quelle heure est le petit déjeuner? C'est compris?
What time is breakfast? Is it included?
Notre télé ne marche pas et il n'y a pas de serviettes dans la salle de bains.
Our TV doesn't work and there are no towels in the bathroom.
Pouvez-vous me réveiller à sept heures demain matin?
Can you wake me at 7 tomorrow morning?
Ma chambre est au troisième étage.
My room's on the third floor.
Il faut prendre l'ascenseur.
I / you have to take the lift.
Le petit déjeuner est servi entre sept heures et dix heures dans la salle à manger qui se trouve au rez-de-chaussée.
Breakfast is served between 7 and 10 a.m. in the dining room, which is situated on the  
ground floor.
J'aime loger dans un hôtel parce que c'est plus confortable.
I like staying in a hotel because it's more comfortable 
CAMPING
la tente tent
le bloc sanitaire washroom
l'eau potable drinking water
l'emplacement pitch
le gaz gas
une machine à laver washing machine
des plats à emporter takeaway food
une poubelle bin
un sac de couchage sleeping bag
la salle de jeux games room
Avez-vous de la place pour une caravane? C'est combien par nuit?
Have you space for a caravan? How much is it per night?
On peut louer des vélos?
Can we hire bikes?
Le terrain est inondé. Il n'y a pas d'électricité.
The ground is flooded. There's no electricity.
Il n'y a pas d'eau chaude. Les douches sont froides.
There's no hot water. The showers are cold.
J'aime faire du camping parce que c'est moins cher et on a plus de liberté.
I like camping because it's cheaper and you've got more freedom.
Mais ce n'est pas agréable quand il pleut.
But it's not pleasant when it rains.